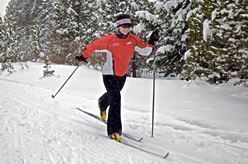 Under a deal negotiated by the Conservation Fund, on May 13th 2014 Boulder County commissioners approved spending $1.5MM toward the $7.1MM  needed to purchase a conservation easement over 3,394 acres south of Eldora.
The sizable property is part of the private Tolland Ranch.  The land will continue to be owned by the Toll family, but future use and development will be severely limited.
In addition to Boulder County's contribution,  Colorado State Forest Service and Great Outdooors Colorado

will contribute $4.9MM and $700K respectively.
380-400 acres of the easement are within Boulder County.   The rest of the parcel is in Gilpin County, which can't afford to contribute to the conservation easement.  The Boulder County funds will come from the county's general-fund budget line.
Eldora nordic skiiers are among those strongly supporting the purchase.
Read the Original Article Here: Boulder approves conservation easement purchase