Friends,
While under-contracts are still well above 2019 numbers, momentum slowed (likely) in anticipation of governmental transition.
But before we get to the data, our new Community Connection Series…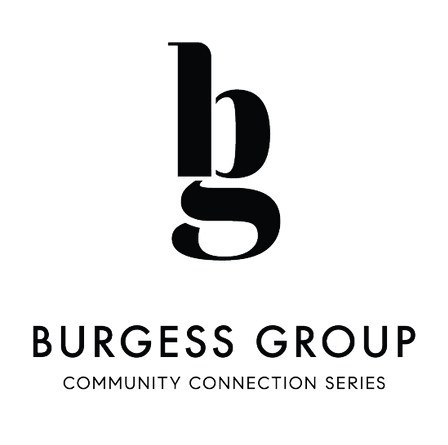 Callie has generously offered friends of the Burgess Group 10% off of Nonna's Winter Dinner Series. Click here to get the deal!
For our first installment of our Community Connection Series, we sit down with Callie Cavanaugh, founder and CEO of Nonna Eats to hear about her journey into the culinary world and what she loves most about Boulder.
Callie also chats about her relationship with local culinary star, Peggy Markel of Peggy Markel's Culinary Adventures and how their conversations inspired Nonna's delish new Winter Dinner Series, which helps diners to explore international cuisine, foster connections with friends, and stay positive from the safety of their own homes this winter.
---
Are you a local business or community leader who would like to be featured in our Community Connection series? Send us an email and we'll see if it's a good fit!
---
BOULDER COUNTY MICRO REAL ESTATE DATA
Boulder County Stats 10/25/2020-11/01/2020
THE AGGREGATE MARKET:
For some perspective, two weeks ago our numbers were unbelievable, with under-contracts 86% above 2019 Year over Year (YoY). Last week under-contracts were still 24% above 2020 YoY. New listings were up only 4 units over 2019. Inventory is as thin as we've seen it this year, with .72 months of inventory. Keep in mind that a balanced market is 5-6 months of inventory. Sellers know inventory is thin, and we're seeing very few price changes at this time.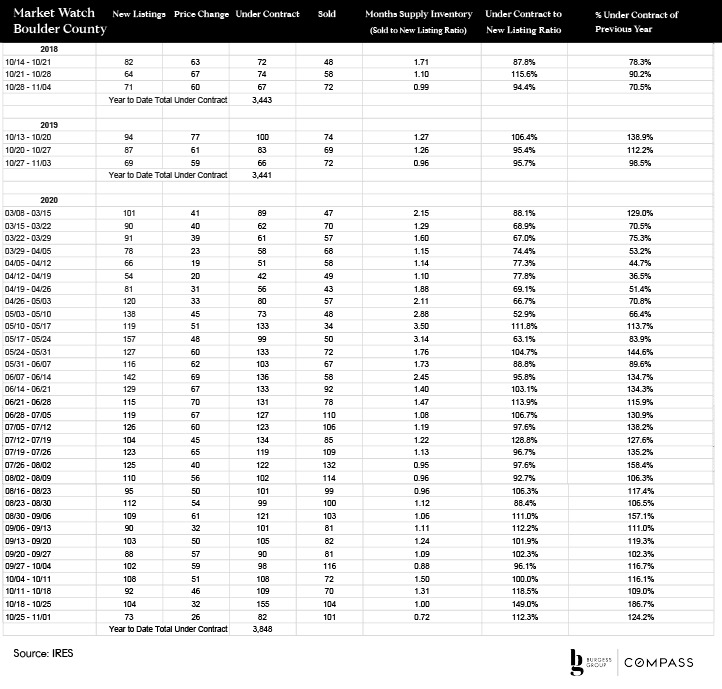 THE MARKET BY PRICE BAND:
​​​​​​​The lower end of the market continues to perform super well. Let's look at the higher end of the market in a three-week chunk. Viewed this way, we're seeing continuing new inventory and under-contracts. We're continuing to seeing a lot of consistency in price band performance right now.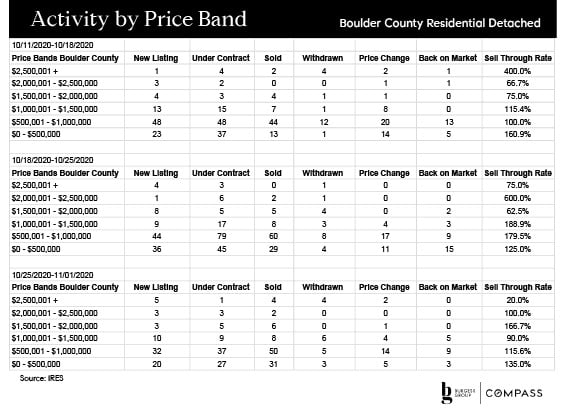 LOCAL REAL ESTATE IN A NUTSHELL:
Typically new listings are slow this time of year.Incredibly tight inventory suggests that now may be a good time to bring new properties to market.
Sellers, if you're considering coming to market this spring and you're ready now, this inventory-starved market may be a good time to jump in. There are some isolated buyers' markets still, so let's be sure that your property wouldn't fall into that range before moving forward.
---
NATIONAL MACRO DATA:
Mortgage Bailouts Average 5.7% Nationally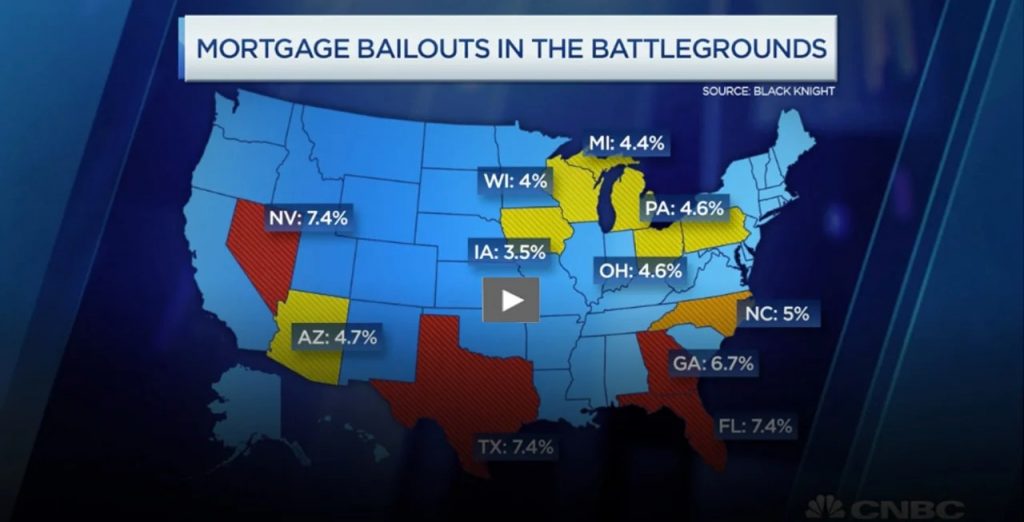 ---
How Presidential Election Uncertainty Hurts—and Helps—the Housing Market
Homeowners and buyers are the real winners in this election
Lack of Inventory, Higher Prices Push Housing Affordability Near Two-Year Low
Zillow shares jump after online real estate company blows past estimates and provides optimistic forecast
---
OUR EXCLUSIVE LISTINGS: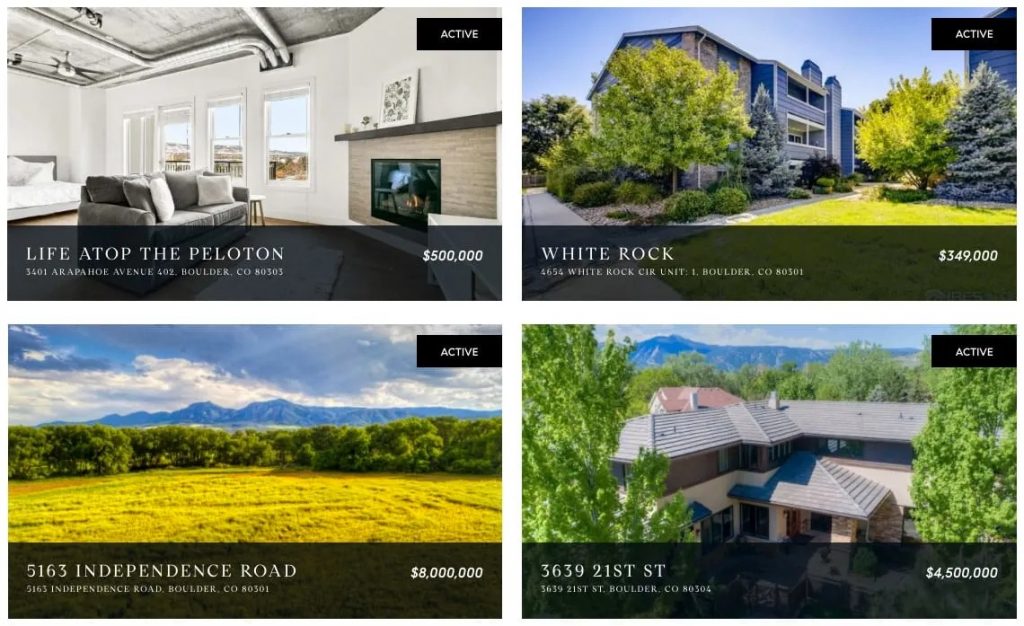 ---
BURGESS GROUP BLOG: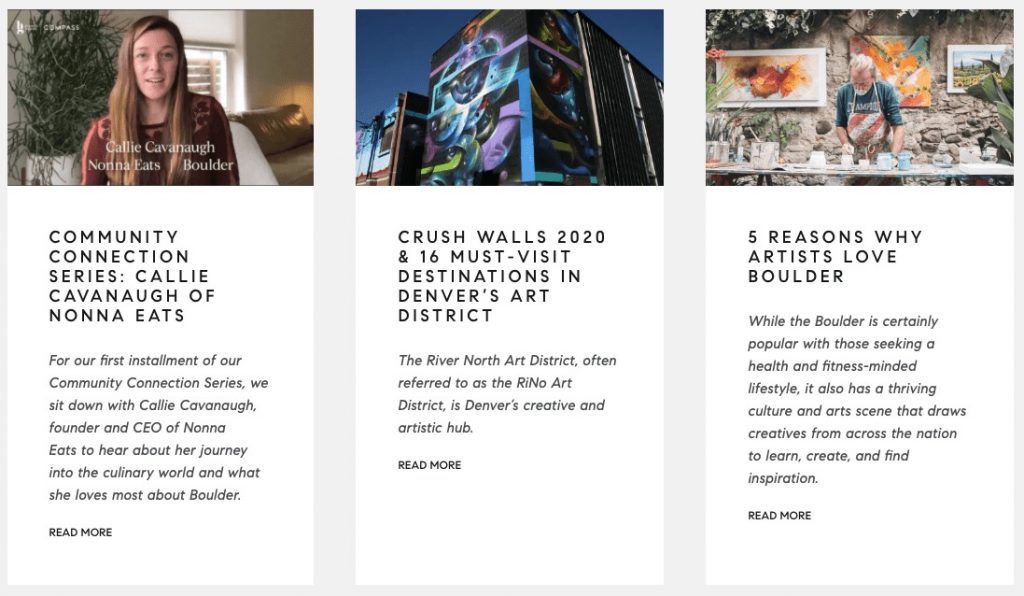 ---
THE FUN STUFF:
The coolest (science) birthday party ever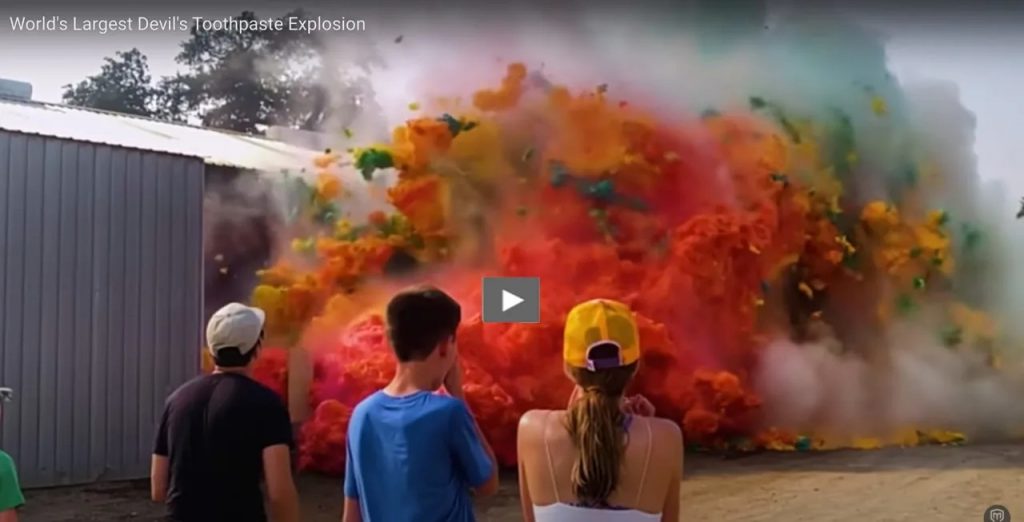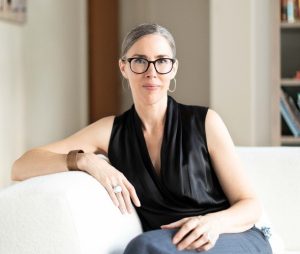 CATHERINE BURGESS
Associate Real Estate Broker
303.506.5669
[email protected]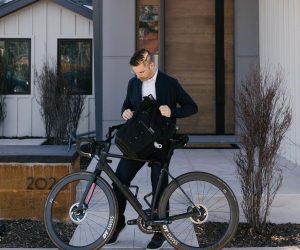 ANDY BURGESS
Associate Real Estate Broker
303.301.4718
[email protected]

© Compass 2020 ¦ All Rights Reserved by Compass ¦ Made in NYC
​​​​​​​Compass is a licensed real estate broker and abides by Equal Housing Opportunity laws. All material presented herein is intended for informational purposes only. Information is compiled from sources deemed reliable but is subject to errors, omissions, changes in price, condition, sale, or withdrawal without notice. No statement is made as to accuracy of any description. All measurements and square footages are approximate. This is not intended to solicit property already listed. Nothing herein shall be construed as legal, accounting or other professional advice outside the realm of real estate brokerage.