The climb-and-dine ritual is a blissful pairing. Kind of like wine and cheese. Or an audiobook and a jigsaw puzzle. Food never tastes better than after an excellent climbing session. Climbing is a full-body and mind sport. Every ounce of our energy goes toward the movements of getting up the wall and ensuring the safety of our partners. By the time we've hiked in, climbed, belayed, gathered up the gear, and hiked out… the overwhelming consensus of the group is FOOD. NOW. There's barely even any energy left to pick out the restaurant.
So that's what this guide is for. The Boulder realtor team at Burgess Group | Compass offers a quick reference guide for Boulder climbers…The most delicious (and closest!) restaurants* to Boulder's most popular climbing spots.
Note* None of these places will care if you show up sweaty and covered in chalk.
---
Boulder Eateries for after your outdoor climbing session:
Eldorado Canyon State Park + Under The Sun Pub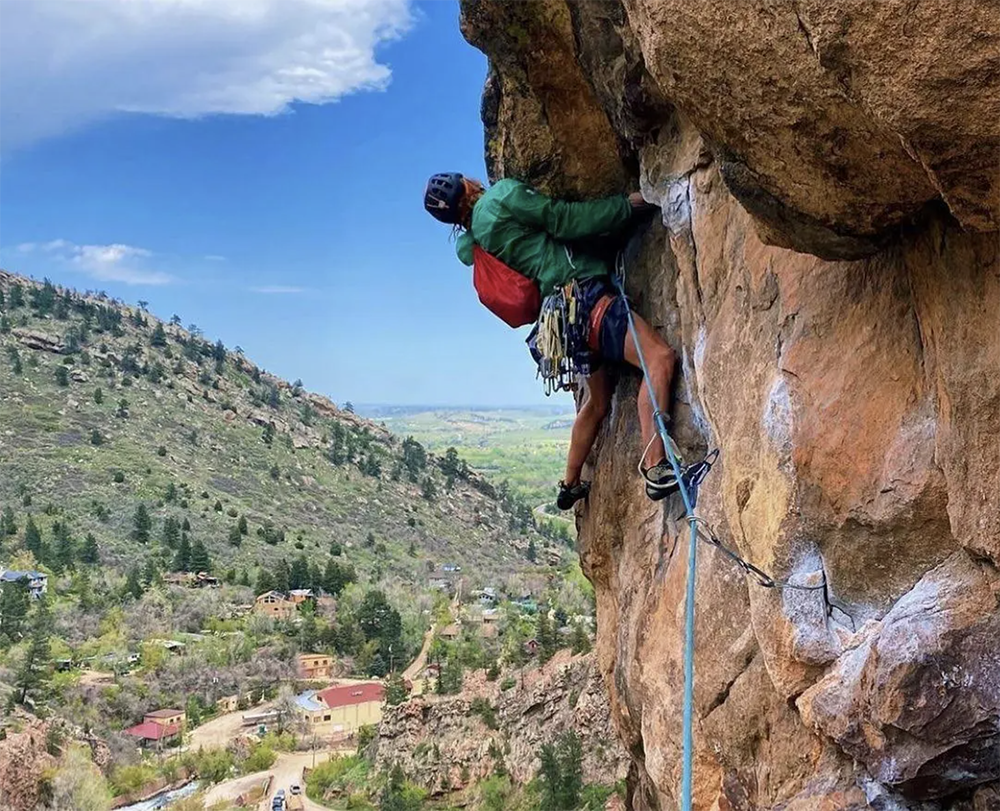 Eldorado Canyon is one of the most famous climbing areas in the world. The sandstone crags have a naturally grippy texture, more similar to granite than the sandstone you'll see in Arizona and Utah. One thing that makes this area so special is the variety of climbs. Climbers can opt for multi-pitch, single pitch, sport, trad, bouldering, and top rope. There are 1,223 routes to choose from in Eldorado Canyon. There is truly something for all skill levels.
After your adventure, head over to Under The Sun Pub. Eldorado Canyon is a bit isolated, but Under The Sun is only 15 minutes away from the park entrance. Drink a craft beer and snack on some truffle fries while you wait to chow down on a wood-fired pizza. They have a lovely patio, so you can continue to spend the day outdoors.
If pub grub doesn't sound right… there are 3 other eateries in the same complex as Under The Sun. You have options! You can also check out Tandoor Grill, Snarf's Sandwiches, and Murphy's South.
The Flatirons + The Sink
The Boulder Flatirons are iconic. Mountain Project jokes, "Look west of Boulder… if you can't see them, you shouldn't go climbing". There are bouldering, sport, top rope, and trad options in the Flatirons. Although sports routes see more difficult grades (5.10-5.14b). The summit climbs are surprisingly easy (5.0-5.7) but require multi-pitch trad knowledge. The hike to the base of the Flatirons is long and challenging…. especially while carrying heavy climbing gear. You'll be ready for a hot meal by the time you reach your car. Luckily, The Sink is just 3 minutes away from the trailhead. Ask any Boulder realtor and they'll tell you, The Sink has been a Boulder staple since 1923. There is fun art, a funky vibe, and incredible burgers and pizza. Vegetarian options are always available, and they have great happy hour deals too!
Boulder Canyon +Rio Grande Mexican
Climbing in Boulder Canyon is a local favorite. It's super convenient from downtown and has gorgeous scenery. Boulder Canyon features textured granite rock with great grip. There are 1,800 routes in the canyon, the majority of which are sports routes. Although trad, bouldering, and toprope are available too. There are even a few spots that can be ice-climbed in the winter months. On hot summer days, our Boulder real estate agents recommend climbing on the shady south side of the canyon. When you're pumped out… head on over to Rio Grande Mexican Restaurant. It's the best Mexican food in town. The extensive menu has all the classic tex-mex favorites, and all ingredients are super fresh. There's even a full vegan menu and gluten-free menu. 
Flagstaff Mountain +The Dark Horse
Flagstaff Mountain is the city's go-to spot for outdoor bouldering. Although there are trad and toprope routes here too. Try your hand at the area's historic boulder problems, suited to the intermediate climber. Afterward, head on over to The Dark Horse. This pub has been a Boulder landmark since 1975 and is a regular haunt for local climbers. If you're new in town, this is a great spot to mingle with other local climbers. 
---
The climb-and-dine pairing is just as good after indoor sessions! 
With indoor climbs, you forfeit the approach hike. But it usually makes no difference in the post-climb appetite. If anything, it just means you have more energy to climb harder. Indoor gyms are great training grounds and are a must for Boulder climbers during the winter months. Boulder has some seriously cool indoor gyms. Here are the best (and closest!) dining options to Boulder's coolest climbing gyms. 
The Spot+ Twisted Pine Brewing Company
The Spot is an awesome gym. They have 15,000 square feet of climbing, and their boulder problems are modeled after Fontainebleau, Hueco Tanks, and Yosemite. After your workout, head over to Twisted Pine Brewing, just down the street from the gym. 
Boulder Rock Club+ Fresh Thymes
Boulder Rock Club was voted "Best of Boulder" seventeen years in a row. There are over 200 quality routes in the gym, and they are always changing. Route setters change up the problems 3 times a week. No route is over two months old. Even if you hit the gym every day, you'll never get bored. After your session, hit up Fresh Thymes for a healthy recovery meal. 
Movement Climbing and Fitness + Rayback Collective
Between climbing,  yoga, and fitness, Movement is a great destination for full-body wellness. And as a bonus, the gym has formed partnerships with non-profits to help preserve beloved outdoor crags, and break down social barriers. The Burgess Group | Compass Boulder realtor team recommends dining at The Rayback Collective after your workout. This food truck park has something for everyone, and live music is plentiful!
G1 Climbing and Fitness + The Burns Club 
G1 has 50-foot climbing walls, 25,000 square feet of terrain, and host regular climbing meet-ups. Cozy up at The Burns Club after. This British-style pub is a great spot to relax after a long workout. Check out their menu here. 
Longmont Climbing Collective + Sugarbeet
Longmont Climbing Collective has hundreds of routes and 4 adjustable hydraulic boards. You're guaranteed to get an awesome workout here. They even have a  lounge with beer on tap. It's called the Top Out Taproom. It's a great place to mingle with other climbers… but unfortunately, they don't have a food menu (yet!). We recommend heading to Georgia Boy's BBQ after your climb. But if you're not in the mood for BBQ, there are a bunch of amazing restaurants along Main Street Longmont (pizza, tacos, Indian, burgers… you name it!)