Boulder's history is rich with tales of indigenous peoples, coal miners, and saloons. Despite its rough-and-tumble past, Boulder's historic neighborhoods stand stately and dignified today. Ask any Boulder realtor and they'll tell you, they're some of the most beautiful neighborhoods in the city.
There's something about a historic district that inspires introspection. How many lives have passed by the mature trees that line the boulevard? What stories can these mountain peaks tell?
These neighborhoods are gorgeous places to go for a walk. It can be fun to take yourself on a self-guided history tour on a sunny Sunday afternoon. Our Boulder real estate agents highly advise heading to these spots if you enjoy learning about the city's roots:
---
Boulder's Beautiful Historic Districts
Mapleton Hill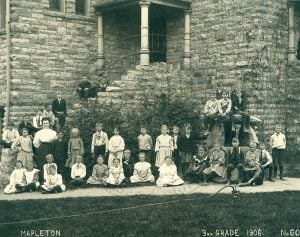 The first building to be built in Mapleton Hill was the Mapleton School. It was constructed in 1888. Over a century later, children still fill the hallways every school year. After the school opened, a neighborhood quickly bloomed around it. Mapleton was the "popular kid" in town from the start. Its spectacular views made it a coveted neighborhood. Its reputation as a wonderful place to live has never faltered. Early developers planted over 200 silver maple and cottonwood trees in the neighborhood. These trees have since matured. They tower over the neighborhood giving it a picturesque charm. Mapleton homes are primarily Victorian and Queen Anne-style architecture. According to our founder and Boulder realtor, Catherine Burgess, home prices in this area easily hit the million-dollar mark. But many Mapleton Hill homeowners enjoy state tax credits and preservation grants from the Colorado Historical Society. 
This neighborhood also has one of the highest walkability scores in the area. Mount Sanitas and Sanitas Valley trailheads are nearby. This makes it easy for residents to squeeze in a nature fix anytime they want.
Downtown/ West Pearl 
Do you know about "Niwot's Curse"? Our Boulder real estate agents sure do!
Chief Niwot, leader of the Arapaho tribe that dominated the area, cursed its first settlers. He claimed that "Boulder valley is so beautiful that these miners will want to stay. But they will be the undoing of its beauty".
Soon after miners claimed their stake in the valley, the West Pearl District was formed. It was originally an industrial area built to support the Colorado Central Railroad. The railroad would ship raw gold, silver, and tungsten from the mines to West Pearl to be processed. In May 1984 a great flood caused by melting snow wreaked havoc on Colorado mining operations. Boulder creek raged through the city.
Could this be Niwot's Curse in action?
West Pearl remained safe from the majority of the damage and became a refuge for miners all over the area. This was the start of its designation as a residential district. It has continued to grow ever since.  The first construction was at 508 Pearl Street. It was built in 1876 by German immigrants. Their son Henry was in the first-ever graduating class of the University of Colorado. Pearl Street is thought to have been named after the wife of one of the town's founders.
Pearl Street was always the commercial hub of the city. Storefronts and businesses have been in residence here since 1917. The Pearl Street mall as we know it today began construction in 1970. It's become the cultural heart of the city and a favorite of our Boulder County realtors!

Highland Lawn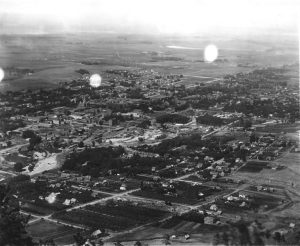 Flagstaff Mountain towers over the Highland Lawn Historic District. 
After the Homestead Act of 1862, the U.S. Government sold the Highland Lawn land to settler Jonas Anderson for $200. Even a century ago, Boulder property appreciation was significant. Anderson sold the land for $32,000 only 10 years later.
At that time, the land was primarily used as an Orchard. In 1884 the Barker family bought and plotted out the land and began to develop a town. The Barker family home still stands on 800 Arapahoe Avenue. Hannah Barker was a teacher, philanthropist, and businesswoman. She's still regarded as one of Colorado's most historically influential women.
Hillside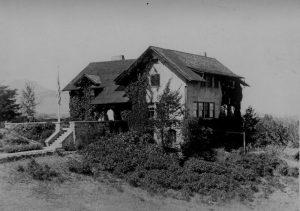 Hillside's period of historic significance was between 1905-1938. This neighborhood is located along a steep slope of the foothills, located near the University. The majority of these homes are rustic Tudor Revival manor houses. This neighborhood was chosen due to its sweeping views of the mountains, university, and towns. During the time of development, farms and ranches dominated Boulder County. Hillside was revolutionary in its development. The builders required that no welling included chickens, domestic fowl, or cattle. It was one of the first examples of a modern neighborhood HOA.
Here are a few of the oldest homes in this area:
1601 Hillside Road

1610 Hillside Road

1707 Hillside Road

1220 17th Street
Chamberlain
This area was developed between 1959 and 1910. Originally, at the turn of the 20th century, Chamberlain was not a highly desirable area. The train tracks ran through its center. The neighborhood was dusty, noisy, and transient. This has long since changed. Now, Chamberlain is a highly desirable area with houses running around between $800,000- 1.2 million. Here are some notable properties in the area:
The First Presbyterian Church. This church was built in a romanesque revival style. It's one of the oldest buildings in the area.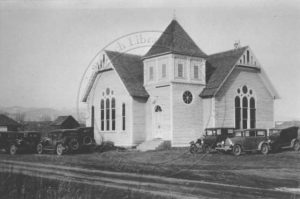 1805 Walnut Street was home to William and Jennie Stewart. They were known as the "oldest saddle dealers" in Boulder.
16th Street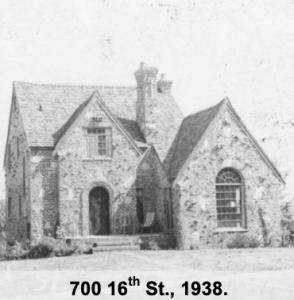 This is one of Boulder's smallest historic districts. But that doesn't mean it's any less important to the history of our beautiful area. The 16th street historic district comprises five properties, all located on the 700 block of 16th street. The development can be credited to Clyde and Mary Totten, Oklahoma transplants who had a knack for thoughtful development.
Architectural styles include:
Elizabethan/ Jacobean Revival Style

Mediterranean Style

Colonial Revival
As you explore the area, keep an eye out for 716 16th street. This home was owned by Warner and Norma Imig, the dean of the University of Colorado music department from 1939-1978.
University Place
Early photos of this area show sprawling ranch land and log cabins. The founding of The University of Colorado Boulder in 1876 sparked the development of this land. This neighborhood has supported the university for over a century. It's been a home for many professors and staff throughout the years. The architecture in this area is highly regarded for its artistic merit.
Primary styles include:
Tudor Revival

English/ Norman Cottage Revival

Craftsman Bungalow

Italian Renaissance Revival

Foursquare

Colonial Revival 
Our very own Boulder real estate agents, Catherine and Andy Burgess, recently sold 1403 Baseline Road, one of the oldest homes in this district, for 1.95 million dollars. You can get an inside look at the home here.
---
Interested in Boulder's Historical Neighborhoods? Catherine & Andy Burgess, along with their Boulder realtor team, have sold many of Boulder County's most prestigious properties, ranging from iconic Charles Haertling homes to spacious horse properties to gated lake community homes.
Catherine and Andy made their mark with a commitment to exceptional service. Specializing in high-end and luxury homes, their team of leading Boulder real estate agent is highly attentive, with active and consistent communication, delivering fast and profitable results. They negotiate aggressively, but collaboratively, to represent their clients. Reach out today — we'd love to help you own a piece of Boulder History.