SPEND A STRESS-FREE WEEKEND AWAY IN AN OPULENT, LUXURIOUS BOULDER RESORT
Considering that Boulder has been ranked number one in happiness by National Geographic, the Boulder realtors at Burgess Group have found that many residents have no desire to leave their blissful bubble to vacation elsewhere.
​​​​​​​Why travel outside of Boulder real estate when you can plan a luxurious staycation at one of the many plush and ritzy resorts in the area? The following list, recommended by out team of top Boulder real estate agents, describes seven fantastic Boulder resorts to consider booking for your next staycation.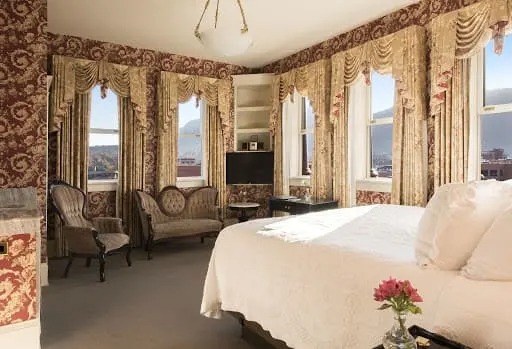 HOTEL BOULDERADO
All Boulder County realtors know that Hotel Boulderado should be the top resort on your list since it was the first luxury hotel erected in the city. The name itself is a homage to both Boulder and Colorado.
It is on the National Register of Historic Places and a city landmark, in addition to being a member of Historic Hotels in America. William Redding & Son, local architects, incorporated both Spanish Revival and Italian Renaissance architectural features into the stately building. It is modeled after the open court hotels initiated by the Palace Hotel in San Francisco.
But all of this opulence isn't surprising if you know how Hotel Boulderado opened its doors — with a magnificent gala ball hosted on New Year's Day in 1909. Another benefit of staying at Hotel Boulderado is the free self-guided tour of the hotel's historic section. You'll need to speak with the front desk to make reservations for a guided tour.
​​​​​​​The hotel also offers high-class dining and a bar area to grab a quick bite to eat or meet with friends for a drink. As if all of that isn't impressive enough, the hotel has catered to esteemed clientele, such as Clarence Darrow, Louis Armstrong, Robert Frost, among others.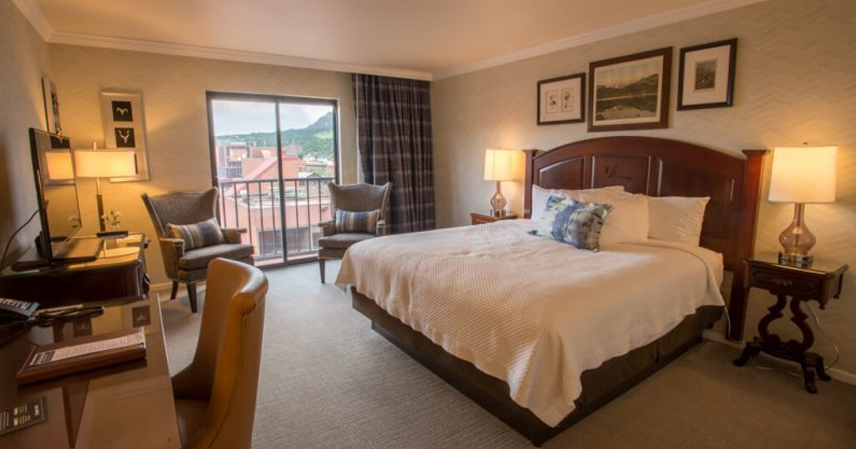 HOTEL BOULDERADO Reviews
I highly recommend Hotel Boulderado to anyone visiting Boulder. Hospitality staff exudes that of a bygone era.
This is a beautiful hotel with friendly staff.
Excellent location!! Our room was beautiful! Front desk was very helpful in answering questions!
THE BRADLEY BOULDER INN
The heart of Boulder is the bustling downtown district on Pearl Street, and there is plenty to see, places to shop, and unique cafés and restaurants to dine in. If you want to be close to the Pearl Street Mall, any Boulder realtor will tell you that there is no better place to stay than the Bradley Boulder Inn, the closest hotel in the downtown area.
With so much to do, it is easy to miss out on some of the best spots in the area, even if you are a local. Make a reservation at The Bradley Boulder Inn, a boutique hotel within walking distance of the area's hot spots. It is an elegant and contemporary inn that consistently earns five-star ratings and reviews on websites like Tripadvisor and Frommer's.
Additional guest accommodations are The Bradley's excellent wine and cheese hour and their scrumptious, home-cooked complimentary breakfasts. The inn also offers free wifi, complimentary parking, and health club privileges.
​​​​​​​It might surprise you how many amenities are free components of renting a room at the Bradley, such as tasty baked goods and organic coffee available all day, along with late afternoons spent near the river rock fireplace.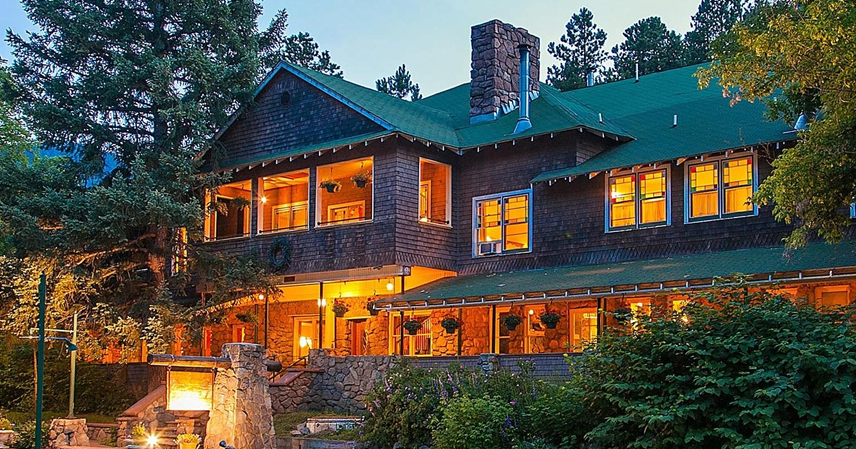 The bradley boulder inn Reviews
If solitude and serenity are how you want to experience America's Happiest City, then The Bradley is the place to lay your head.
… great service, complimentary tea and baked goods and an afternoon wine & cheese hour. Rooms are unique, some with fireplaces, jacuzzis or balconies.
ELEGANT AND CONTEMPORARY, this downtown inn has a spacious great room with warm tones and an inviting stone fireplace, and local artwork is on display throughout.
ALPS BOULDER CANYON INN
Romance is in the air at the Alps Boulder Canyon Inn. This cozy inn is an excellent staycation spot for a couples retreat or even a business trip. Colorado is renowned and revered for its scenic views and outdoor recreational activities and sports.
Plan a ski trip to the area, and the concierge at the inn can assist you in setting up everything you need to make your trip as comfortable and entertaining as possible. Enjoy hot cider, downhill and cross-country skiing, sports games, and more in the colder months, and then return for hiking, fishing, birdwatching, and bicycling in the spring and summer.
Despite being located only five minutes away from the downtown area in Boulder, the inn is still nestled in the mountainous region of Boulder. This creates the feeling that you are immersed in the gorgeous outdoors.
​​​​​​​No matter the season, you can be assured that the exceptional staff will provide you with a private, secure, and optimal experience in one of the many intimate guest rooms. Each room is decorated with authentic Mission furnishings and a working fireplace. Guests receive free gourmet breakfast, tea, and dessert in the evenings.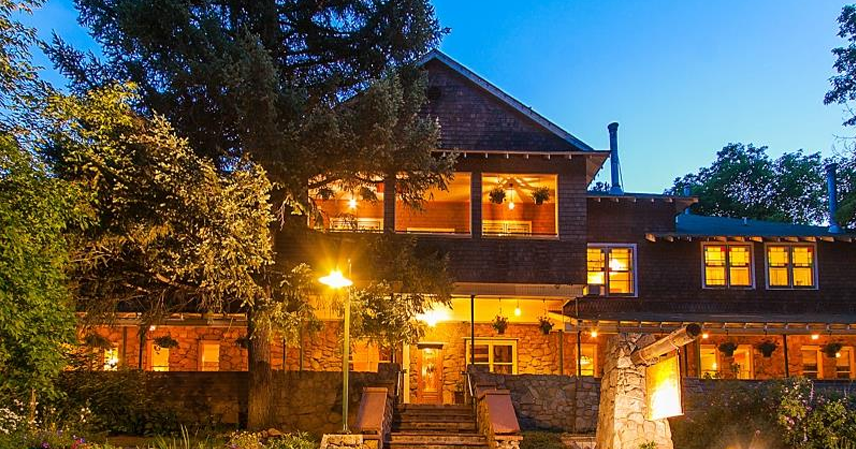 ALPS BOULDER CANYON INN Reviews
Absolutely spectacular. Older, rustic mountain hotel with big porches, fireplaces in the rooms, and still modern amenities. Very romantic. Staff was sweet and attentive. Beautiful location, far enough out of Boulder to get away from the city, but an easy and short drive to downtown. Rooms were clean and comfortable. Breakfast was super tasty. Would stay there again in a heartbeat.
Also, definitely haunted.
It's a really nice inn❤️ The atmosphere is warm and lovely. They offer very nice desserts at night and amazing breakfast😋. I noticed that they are really care about every detail about service. The room is so clean and organized, and I still can't believe they have massage bathtub in the room. Anyway I have an wonderful night there, and I definitely will book this inn again if I travel there.
This inn was a really unexpectedly wonderful place to stay. It's right in Boulder but feels like you are much higher up in the mountains. The staff were very helpful, friendly and warm. The breakfast was good. The room was wonderful, especially being able light the fireplace at the foot of our bed (the bed was also very comfortable). The outdoor patio was a nice place to sit in the sun.
FOOT OF THE MOUNTAIN MOTEL
Don't let the "motel" part of the Foot of the Mountain Motel fool you. Foot of the Mountain is a kitschy, unique spot to rest your head for a night or two. Staying at this treasured motel guarantees you the quintessential Colorado mountain experience. The location couldn't be more perfect as it is literally settled at the foot of the mountainous landscape!
Catering to old-school Americana vibes, you'll swear you are staying in your own private little log cabin. It's like taking a step back in time, an intimate place for couples to take time off and spend time together. But despite its rustic charms, the Foot of the Mountain has plenty of new-age technology to ensure your stay is as comfortable as possible.
While you might be a local already, the staff will do their utmost to make you feel like you're at home. Continental breakfast is provided, dogs are allowed, and you even get HBO, cable, and free wifi. There is also a lending library and an outdoor firepit to settle around when dusk falls.
​​​​​​​Staying at the Foot of the Mountain Motel is especially great for those who plan on taking advantage of Colorado's bountiful wildlife. Our Boulder realtors recommend a tubing down Boulder Creek, or go biking alongside it. Fishing is also permitted in certain areas, and there are numerous trails around to view the natural habitat. Who knows what unusual specimens you might encounter?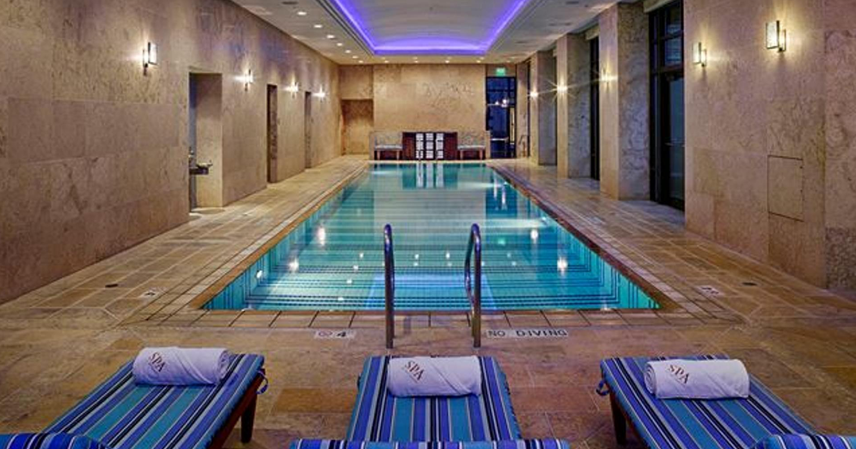 Foot of the Mountain Motel Reviews
So here's the deal.. this is a rustic motel. It's dated as such but still 5/5 for me. Know this going in! It's super cute and has a wonderful mountain vibe. I loved it! I understand those who say the bathroom "isn't clean" but really it's just a very old building with older piping and facilities. It was lovely and charming and made me feel tucked away in the mountains. It's an old building, don't discount it's charm and quality for older facilities. The owner called us and gave us instructions for late check in and was very sweet, informative, and helpful.
I first stayed here and out 10 years ago and returned recently. The quaint, rustic, and oh so peaceful cabin vibe is still there, along with several upgrades. Like new beds, WiFi, and more.
Splurge on one of two suites—they share a private deck and hot tub. Delightful. Breakfast in the morning is well done (gluten-free options!) and the people who run it are the nicest.
This place is a gem. Quiet beautiful setting where you can walk on foot up the canyon or even up the mountain. They love dogs. Carol at the front desk was fantastic and friendly. Next time we'll splurge on one of the bigger suites. The Bunkhouse Queen we had was wonderful and classic-sized for an old fishing camp cabin, but would have been great to have room to not have the dog underfoot 🙂
ST. JULIEN HOTEL & SPA
Boulder real estate agents point many visitors and locals to the St. Julien Hotel & Spa, a dignified hotel with more than 200 rooms available along with six two-room suites. Each room is equipped with a large bathroom decked out with slate flooring and granite countertops.
Accommodations are top-of-the-line with your choice of a mountain-view, city-view, or balcony room. Rooms come with wireless internet access, a complimentary shuttle service, parking, and a fully stocked minibar.
In addition to its luxury rooms, there are plenty of places to drink and dine at the St. Julien. The Redgarden Terrace has a stunning, uninterrupted view of the famous Flatirons and the neighboring mountaintops. The T-Zero Lounge is a secluded modern bar in the hotel lobby and is an excellent place to grab a martini. St. Julien's spa includes nail, hair, waxing, scrubs, wraps, massages, and other services, with rejuvenation serving as the fulcrum of all the spa menu items.
​​​​​​​The variety of options available at their spa will blow your mind and ensure you leave the hotel feeling more refreshed than ever. St. Julien's also offers entertainment in the form of special events and live music. There is always something to do at the hotel, and staff can guide you to the best places in Boulder to revel in during your staycation.
St. Julien Hotel & Spa Reviews
I really like the atmosphere and the people watching is wonderful. Sitting by the fire on a winter evening is lovely. And the live music on Fridays is so much fun. But, the service is so bad. At first, I thought it was calling on Friday.
Amanda Piper
The Event Troupe
As a wedding planner, this is a fantastic location for a wedding! The food is amazing, the hotel is beautiful and the staff are very professional. Have your ceremony in the gazebo outdoors, enjoy the patio for cocktails, and then the ballroom indoors makes a beautiful reception. Everyone here is wonderful to work with.
Our first time staying at the St Julien. The staff was lovely. We enjoyed the outdoor space. However, our room was surprisingly outdated. The shower door was stuck and they had to come fix it twice. We expected nicer accommodations for the price and reputation.
BRIAR ROSE BED & BREAKFAST
Briar Rose Bed & Breakfast is not your customary upscale resort. While it offers a more subdued bed-and-breakfast experience, that doesn't mean it is without deluxe amenities. It strives to be both an "eco-luxe" and eco-friendly bed and breakfast through its conservation efforts, composting, and recycling.
The staff is hands-on with guests to ensure they have the best stay possible by selecting the best room, meals, drinks, and anything else they could possibly need for a dreamy staycation. The Briar Rose is known for its vibrant gardens and beautiful works of art. Briar Rose is a zen location. Not necessarily known for being fancy, it feels cozy and safe, like a sanctuary.
​​​​​​​Aside from its delightful rooms and delicious breakfasts, Briar Rose also has a 400-square-foot meditation room. It is a special space for those who wish to make use of it.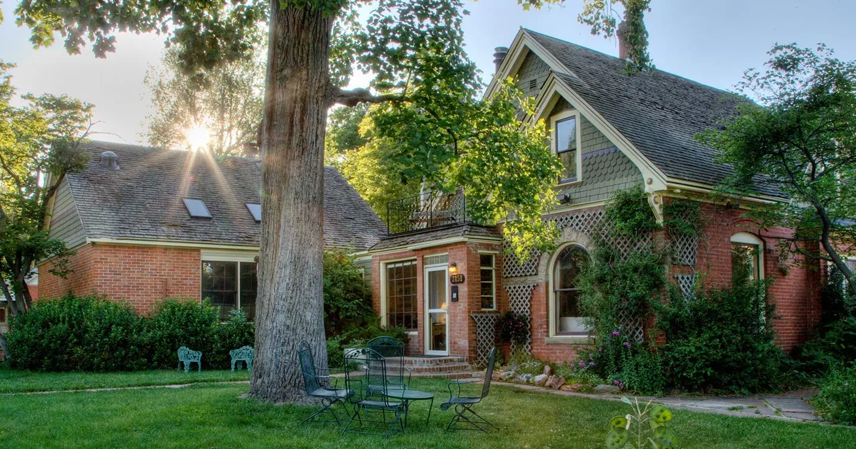 Briar Rose Bed & Breakfast Reviews
Best bed and breakfast in Boulder. We have stayed here every year for the past 5 years as date/anniversary gift. Breakfast is always good and all of the amenities are amazing. It's peaceful, calming, and a great place to relax.
Clean and cozy room. Walkable distance to downtown area and city bikes. Breakfast was really tasty! Enjoyed the zen gardens. Only problem was one night that guests were outside our window being noisy, other than that great!
It was such a refreshing experience to stay here. The styling is classy and modern. I especially loved the plants and artwork in my room!
BASECAMP BOULDER HOTEL
Basecamp Boulder is particularly suited for the adventurous, outdoorsy soul as it presents guests with a hotel experience unlike anywhere else. In addition to the conventional rooms, there is The Great Indoors suite, which comes with four twin beds and all the amenities needed to "glamp" in style. If you opt for the glamping package, you even receive a round of s'mores on the house!
The hotel uses its minimalist design to create the ideal layover for those intent on hiking the many Boulder trails, kayaking, or other outdoor activities that appeal to an intrepid wanderer intent on exploring the natural surrounding wilderness.
The Basecamp lobby serves as both a café and a juice bar. It's the place to grab a quick panini or shredded chicken empanada before heading out on your next adventure. There is also a fire pit where you can sip hot cocoa or a smoothie.
The Lounge next door serves tasty food, and the hotel always has locally brewed craft beer on tap.
Life in Boulder, Colorado is bliss in itself, so it's no surprise that many people prefer to stay in town for their vacations. Learn more about homes for sale in Boulder by contacting one of our Boulder real estate agents at Burgess Group today.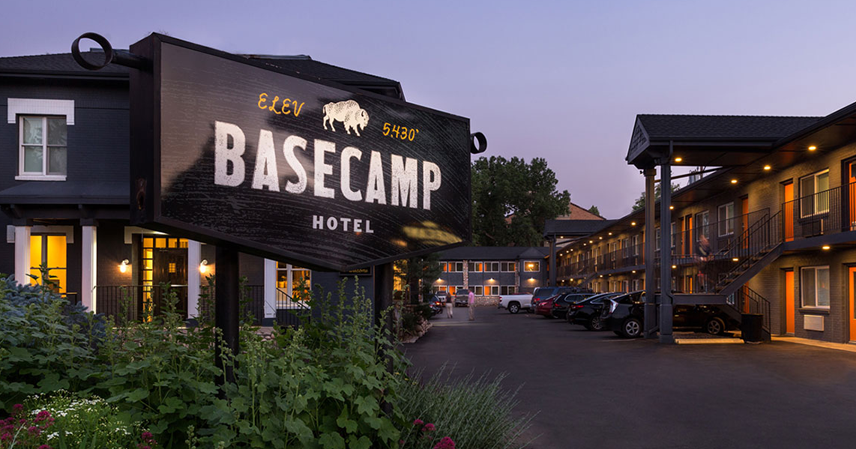 Basecamp Boulder Reviews
Cool digs, clean outdoorsy style decor and good sized rooms. The staff was excellent, Jonathan was incredibly nice and helpful. Hot tub and sauna were awesome after a day on the mountain, as was the bar and fire pit. Easy walk to bus or downtown. I will definitely stay here again when I'm in Boulder.
BB was so cute, cozy, clean, and unique. The Happy Hour is yummy and reasonably priced, loved that they brought in a food truck to the property, the climbing wall, games, firepits, patio, outdoorsy environment is a VIBE. The staff was so kind and helpful, welcoming, and amazing. The only reason I'm not giving a full five stars is that I do feel that it is a tad overpriced for being a motel with a few extra touches. We will likely stay there again but will definitely keep an eye on when it's cheaper to go.
Great location, staff was extremely courteous and helpful both upon check in and across our stay (thanks, Shannon!). Breville espresso machine in the lobby with local roasted beans helped us get the day started; a few draft options at night enabled a nightcap by the firepit. Dig the outdoorsy vibes, too!
frequently asked questions (Faq)