Memorial Day, at its roots, is a solemn holiday. It's a reflective holiday of our nation's history and the soldiers who made it possible. There are rarely war memorials that are both solemn and uplifting. But somehow, Memorial Day has become just that.
Although summer solstice isn't until June 21st, we culturally recognize Memorial Day Weekend as the official beginning of summer. School is out. Pools and lakefront beaches are opening. The scent of charcoal grills fills the air. And everybody, especially our Burgess Group | Compass Boulder real estate agents, love a 3 day weekend!
Memorial Day is a time when the city of Boulder truly becomes alive. A city-wide positive energy buzzes throughout our streets. Memorial day means sunny days and good times. It's exactly what we need after a long winter. Fun events pop up all over town.
Here are the ways our Boulder realtor team recommends to make the most of Memorial Day in Boulder this year.
The BOLDERBoulder 10K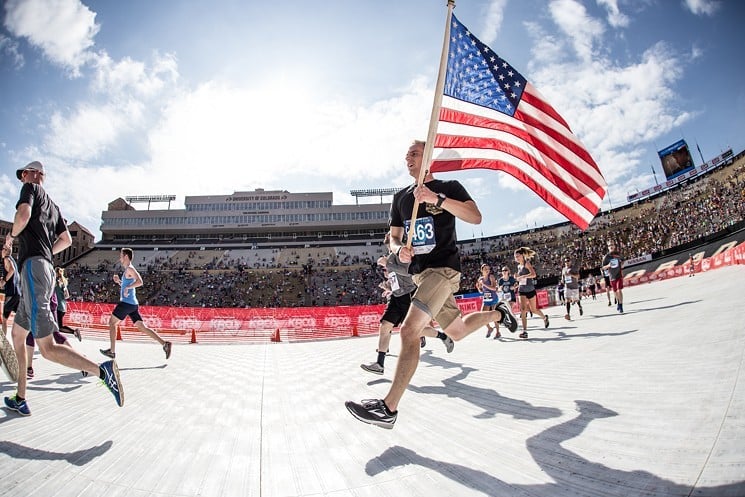 There's nothing like race day energy. And the BOLDERBoulder takes it to the next level. Runner's World awarded it "America's All-Time Best 10K". Elite athletes from all over the world travel to Boulder for this epic race. Outside of the Summer Olympics, this is the largest gathering of elite runners in the world. The competition is intense. But you don't have to be an elite runner to participate! Anyone who is only running to justify eating an entire pizza is welcomed with open arms. Walkers too! Just simply sign up for whichever wave matches your pace. You won't have to worry about getting stuck behind a wall of slow runners…or about being trampled by an olympian on a mission.
The course finishes at CU's Folsom Field. The stands are jammed packed with over 50,000 fans cheering you on. If you've ever daydreamed about sprinting through a finish line with thousands of fans cheering your name. Or of a stadium with flashing cameras like twinkling stars… This is the opportunity of a lifetime.
The post-race Mega-Memorial Day Celebration is one for the books. 100,000 of your fellow runners and friends party under a sky of moving tributes, flyovers, and music. The Flatirons are an inspiring backdrop throughout the day. 
Running 6.2 miles at 5,397 feet elevation is the price you pay for an unreal experience.
But if you're not a runner… this event can be just as fun for spectators. Crazy costumes, hang gliders, and a truly uplifting atmosphere makes it fun for anyone. Cheer on finishers at Folsom Field or post-up along the course.
If you're interested in running, it's not too late to register!
Party with The Burgess Group | Compass Boulder Real Estate Agents
If you're interested in a front seat to the BOLDERBoulder … join your favorite Boulder realtor group! We will be hosting a party in Catherine and Andy Burgess' front yard. The racecourse goes right by. Coffee, mimosas, and LeMars Donuts. It's a casual party, but bound to be a good time! Live music by The Intolerables will be rocking the house. Their music is a fun pop-punk-rock blend. Think Johnny Cash meets Johny Rotten with bouncing bass that will keep you on your toes.
Consider yourself invited!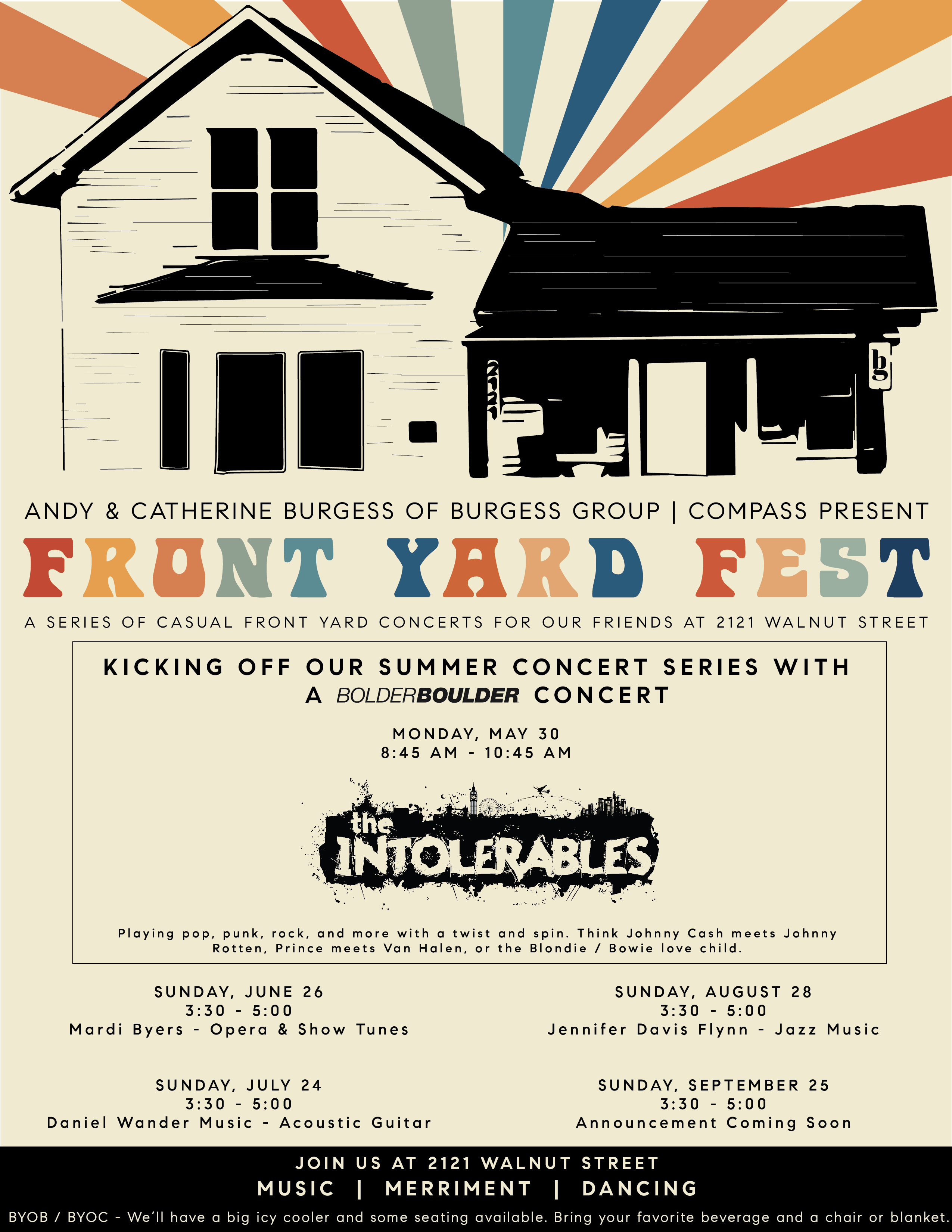 Boulder Creek Festival 
A 4 day festival of art, music, and festivities. The events calendar is jam-packed with music and art, and is one of our Boulder realtor team's favorite events of the year. There's no break in the stages! This will be a full weekend. Some can't-miss events include music by local soul legend Hazel Miller and the StreetWise Art Battle. 10 artists will be selected to paint a park bench in their unique style. Vote for your favorite bench. The top 3 artists will receive a cash prize!
The Boulder Creek Festival is a family-friendly event, but a 21+ section will be blocked off for the beer fest. 12 of the best local breweries (including Avery, Upslope, and Bootstrap) will be offering tastings on Saturday and Sunday. Set up a blanket in the grass along the creek and sample some of Boulder's finest creations.
View the entire weekend lineup here.
Memorial Day Painting 
If you're looking for a quieter way to spend the holiday weekend, gather a group of friends and head over to our local branch of Painting With A Twist. The studio is hosting a Memorial Weekend-themed event. You'll learn how to turn a blank canvas into a creative homage to our soldiers and sailors. 
Memorial Day Car Show 
If classic cars are your thing, be sure to mosey out to Lakewood for the Memorial Day Car Show. An impressive 2,000 classic cars will be on display. 
Danceportation at Meow Wolf
Meow Wolf is always a trip. This memorial day weekend, they're offering a portal into summer. The price of admission? Dance. (Oh… and an $85 ticket). But if we know anything of Meow Wolf… any event they put on is guaranteed to be unforgettable. You'll feel like you've danced yourself into a different dimension. The "immersive dance party" will feature 12 different maximalist performers, surprises in The Perplexiplex, and a "party portal". 
Happy Memorial Day from the Boulder realtors at Burgess Group | Compass
Whether you decide to join your favorite Boulder realtor team for our lawn party, work up a sweat at the BOLDERBoulder, or just take it easy at home with your posse. We hope you have a wonderful and festive holiday weekend!