Dear friends,
We hope you're staying healthy.
A big shout-out to our incredible volunteers, scientists, doctors, nurses, frontline responders and essential business workers who are keeping our communities going. We are deeply grateful. Gratitude is a superpower -it gets stronger the more we use it. Let's find things to be grateful for as we journey through this tough time. Let us know if you need support – we are happy to be of service.
Here is our expanding local resources directory. For those of you are moving/thinking of moving, we added a section with some moving resources; check out the small business support guidelines, food/shelter programs, etc. Please contribute to this directory and share with your neighbors.
BOULDER REAL ESTATE MICRO DATA:
Our local market is holding fairly steady. This chart shows that 63 properties went under contract 3/22-3/29, with 90 new listings. We're functioning in the 70% under-contract-to-new-listing range, with normal being more around the 90% range. As we'll see relative to the national info below, that is pretty darn good.
Boulder County Stats: 3/22 – 3/29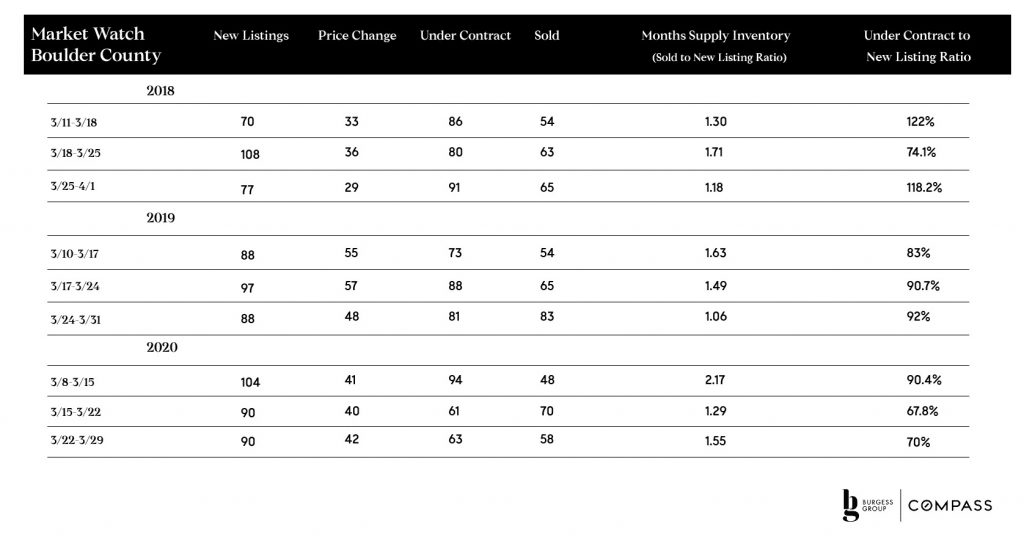 Locally in a nutshell
We are still seeing good movement in the market.
0-$500k end of the market is moving at a quick clip, with a sell-through rate of 103% last week. As we move up a level to $500k-1mm, we're at a 70% sell-through rate. $1mm-$1.5mm is at 40%.
This week Boulder County had two properties go under-contract between $1.5-2mm, and 2 went under-contract between $2-2.5mm. In Denver Metro Showingtime records, we also saw a 200% increase in the number of showings this week in the $2mm-2.499mm market. Together, these showings and under-contracts indicate some higher-end opportunity buyers may be entering the market.
Featured Local Experts
Burgess Group friends and clients Rob & Patti Lydic of Boulder, CO made it through COVID-19. Here is an excellent description of how their symptoms progressed and their experience with diagnosis, from bicycling.com.
Mortgage Rates
Many of you have been wondering why mortgage rates are jumping around when the Fed dropped the federal funds rate to 0.Lender Karen Hope with Loan Depot explains:
Compared to the high from last year of 4.75%, mortgage rates this week were 1.5% lower rate than last year, or a 30% discount on housing cost right now. A lot of people don't buy a purchase price, they buy a payment. If your rate is down 1.5% or 1%, you have a dramatic increase in buying power. These low rates will be compelling for many current buyers.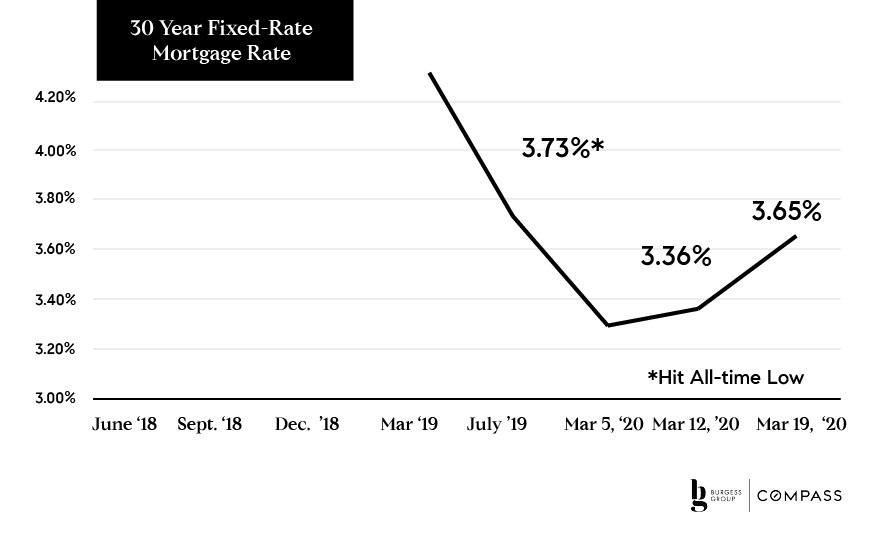 ​​​​​​​NATIONAL MACRO DATA:
Nationally, housing supply is predictably declining as people shelter-in-place. People are not listing their homes at the same rate as last year, and some homes are being pulled off the market. Homes are not going under contract at the same rate as previous years.
Please note that the infographics below come from Redfin, as a summary of their 12 biggest markets. This information would be much more complete if the source had access to San Francisco and big east coast cities. That said, these charts give us a decent feel for what is happening in many major US housing markets.
New listings fell 1% year over year last week in Denver, and remained positive in Phoenix. Detroit and Philadelphia saw the biggest year over year declines in this group at 63%.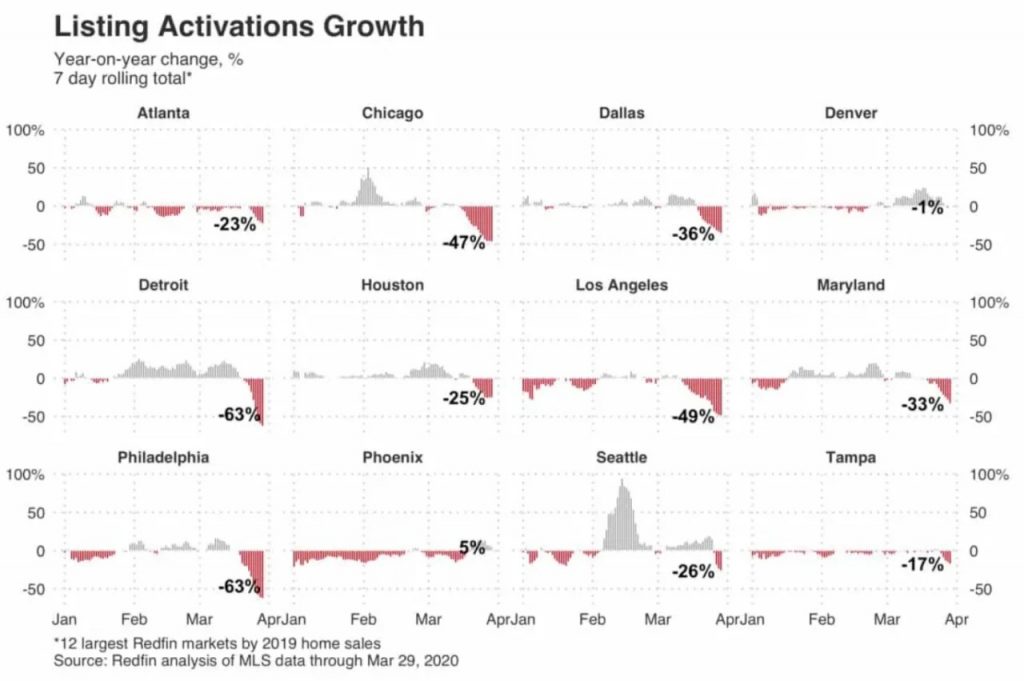 ​​​​​​​Some sellers are taking their homes off the market. From this group of 12 markets, LA and Philadelphia have the most homes exiting the housing market, with Atlanta at the low end.
(While taking your home off the market may be a good plan for some people, there are a lot of people shopping houses online right now. Please remember the 63 homes which went under contract this week locally. The wisdom of exiting the market depends on your price-point; keep in mind that we have virtual touring options to keep homes germ-free. Feel free to call to discuss.)​​
Houses under contract have fallen to varying degrees. (Per the local info above, Boulder County's under- contracts are down only around 20% last week. This is in alignment with Boulder's rating as one of the most stable housing markets in the country.)
​​​​​​​Hang in there! Be good to yourselves, your family and your neighbors. Call us with any questions or to connect, regarding real estate or life.
© Compass 2020 ¦ All Rights Reserved by Compass ¦ Made in NYC
​​​​​​​Compass is a licensed real estate broker and abides by Equal Housing Opportunity laws. All material presented herein is intended for informational purposes only. Information is compiled from sources deemed reliable but is subject to errors, omissions, changes in price, condition, sale, or withdrawal without notice. No statement is made as to accuracy of any description. All measurements and square footages are approximate. This is not intended to solicit property already listed. Nothing herein shall be construed as legal, accounting or other professional advice outside the realm of real estate brokerage.