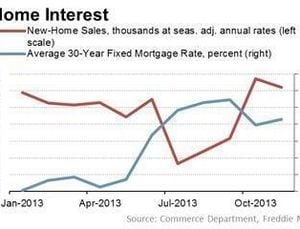 In 2013, increased mortgage rates resulted in decreased home sales, as shown in the graph left.  This trend could continue in 2014, especially if there is a significant increase in mortgage rates.
Although mortgage rates are still at historic lows, Freddie Mac recently posted 30-year fixed rates around 4.48%, the highest rate since September 2013. This is interesting, given that the Fed assured us late in 2013 that it intends to continue its bond-buying stimulus program.  The September 2013 spike in interest rates corresponded with speculation/indications that the Fed would taper the stimulus program.
Additionally, the interest rate for 10 year U.S. Treasuries has climbed up to 3%. In the past, the 3% threshold has signaled higher mortgage rates ahead.
These mixed signals leave mortgage consumers unable to anticipate where interest rates are going.  We could see more rate swings in 2014 like those illustrated by the blue 2013 line at left.  If this is the case, sellers should expect decreased demand as interest rates climb.
Read the Original Wall Street Journal Article Here: Mortgage Rate Swings May Mean "Bumpy" 2014 Housing Market