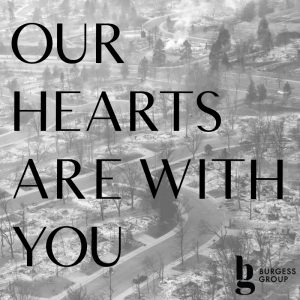 Our team is safe, but our Boulder realtor group is devastated for our friends and neighbors who lost everything in the fire.
The damage and destruction caused by the Marshall fire has left our beloved  Superior and Louisville communities unrecognizable and nearly 1,000 homes and businesses are gone.
Many of you have been reaching out looking for ways to help. Right now, Burgess Group | Compass Boulder real estate agents believe that donating money DIRECTLY to families is the best way to offer support.
We've gathered information, resources, and links to donate to these families on our blog. We'll be updating this as the needs of victims and the bandwidth of our community changes over the next few weeks. 
If you or your family could use financial support during this time, please reach out to us directly.
All Boulder County realtors send their love and strength to you all!
---
Donate Directly To A Family Through GoFundMe
Donate To The Compass Agent Fund Through GoFundMe
The Compass Boulder realtor community has formed a council that will determine the best way to use the funding, whether giving directly to foundations or to specific people and families in need of immediate assistance with housing, supplies, or money.

If you know of families or certain organizations in need please submit

information using this form
---
Downtown Boulder's Comprehensive List of Ways To Help
---
Donate Goods or Services
---
Offer Shelter
---
Donate Money
---
Other Resources: