A quick 10 minutes from downtown Boulder, Superior Colorado is best known for its large expanses of grassy meadows that lead into pine-covered, snow-capped mountains. Ask even a Boulder realtor and they'll tell you; The views in Superior are sublime. It's a vibrant town that has seen lots of changes in the past 15 years. Formerly a quiet agricultural area, it has become a bustling extension of Boulder's famous outdoorsy scene.
---
Small Town Roots
Superior was a coal mining town from 1986 to 1904. It was named after its superior quality of coal. In its heyday, Superior was lined with classic western saloons, general stores, and boarding houses.
The grubby coal mine culture has been eliminated from the area. It's now a gleaming example of progressive Colorado culture. After the last mines closed in 1945, many people moved out of the area. But it didn't become a ghost town. Instead, it morphed into a quiet, quaint, farm and ranching community. The town has seen an extreme population surge in the last 15 years. But remains a relatively small town compared to nearby areas like Denver, Fort Collins, and Boulder. Its population hovered around 250 until 2006. Now the population is closer to 13,000. Superior's small-town roots and beautiful views make it an ideal place to call home.
---
A Truly Active Community
For a town so small, there is abundant outdoor space. There are over 630 acres of parks, greenspace, and wide-open spaces. 35 miles snake their way around Superior.  
Coal Creek/ Rock Creek Trail System
The Coal Creek trail is a flat, soft-surface trail that connects Superior to Erie in 14 miles. It's an ideal trail for cycling, jogging, or even a pleasant dog walk. There are a few opportunities to extend your adventure through trail connections.
Dip off into the

Coalton Trailhead.

Enjoy grassland habitats (great for spotting prairie dogs!), rolling hills, and mountain vistas.

Detour into

Flagg Park

.

Stop for a picnic in

Harney-Lastoka Open Space

. Take some time to admire the Kerr Community Gardens while you're there. Don't forget to say hi to the chickens! Click

here

if you're interested in cultivating a garden plot.

Pop onto the Rock Creek Trail for an additional 12 miles of flat, scenic trails ideal for walking, biking, and running.
This trail system is set up to empower you to choose your own adventure. Check out the complete Coal Creek/ Rock Creek trail system map.
Therapeutic Recreation 
Superior Parks & Rec has developed a program that provides recreational opportunities for children and adults with developmental disabilities. It recognizes the healing powers of fresh air and outdoor playfulness. 
Community Center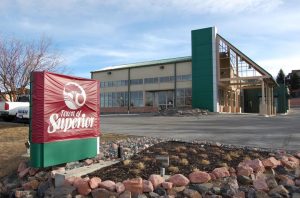 The Superior community center is highly active. It brings the community together through classes, games, and programs. From learning to cook french pastries, to BINGO nights, to yoga classes. It's a great way to connect with the community around you. 
Indoor Winter Recreation 
Everyone knows how cold Colorado winters can get, and the Boulder real estate agents here at Burgess Group advise you that your body, mind, and spirit need to stay active during these months! Superior has met that need by erecting the Sports Stable. It's a 150,000 square foot indoor recreation space. There is an ice rink for skating and hockey games. There are also multiple turf fields suited for soccer, football, and even bubble soccer. Pickleball, Volleyball, and basketball courts are also available.
If your focus is on individual wellness goals, check out the CrossFit and yoga classes. Afterward, get a sports massage, make an acupuncture appointment, or get assessed by the staff physical therapist. You can even relax in a coffee shop and get a haircut!
A New City Center
Plans are approved to build a new, revitalized downtown in Superior, and Boulder County realtors couldn't be more thrilled! This development will be highly energetic and walkable, similar to nearby Pearl Street. You will be able to stroll downtown from nearby neighborhoods or hop on the RTD. This project will break ground in early 2022. It has been master-planned to include sunlit terraces, walkable streets. The development will be built in an Alpine modern design that looks fresh, clean, and fits perfectly into the surrounding Rocky Mountain scenery.
Main Street will serve as the city center of Superior. There will be shops, boutiques, restaurants, and modern offices that bring jobs to the area.
Learn more about this upcoming project.
---
Best Food and Drink to Try In Superior 
Misaki 
A Boulder realtor here at Burgess points out that this spot has some of the best sushi and bao buns in all of Boulder County.
PJ's Diner 
Laidback tex-mex and breakfast food. It's a classic diner that every small town needs.
Murphy's Tap House 
This tap house includes a rotating tap, fun cocktails, and new american cuisine with a cozy atmosphere.
---
Real Estate In Superior, CO
Rock Creek Ranch is the largest residential development in the city. It's within walking distance to the future bustle of Main Street. In this neighborhood, it's commonplace to see friends and neighbors taking their dogs for a stroll every evening. Most homes are relatively new (within the last 15 years). Craftsman homes and Farmhouse styles are popular. 
There soon will be a smattering of chic new apartments for multi-family investment opportunities. 
With the new downtown Superior developments breaking ground soon, it's safe to conclude that Superior home prices will soon rise. Ask Boulder County realtors and they'll tell you, now is a great time to buy in this area. The value of your investment will increase as the community becomes more vibrant. 
Our Boulder realtor team can help you search for homes in Superior here. 
So is Superior, CO truly superior?
Well… it was awarded #1 best suburb to live in the United States by Niche magazine. But ultimately, you've gotta be the judge! Spend a day in Superior and don't forget to let our Boulder real estate agents know what you think. 
---