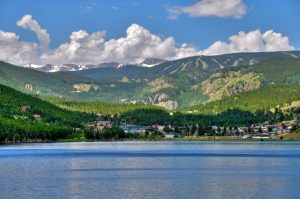 Nederland, nicknamed Ned, is a unique town in a wilderness paradise, and one of our Boulder realtor team's favorites! The land is glacier-formed and one of the most scenic small towns in Colorado. It has a completely different atmosphere than the busy front range. Although downtown Boulder is only sixteen miles away. With a population of only 1,336, there is a definite charming small-town feel to the area. But it's not your average small town. The area hosts world-famous events and has access to some of the most breathtaking adventure destinations in the country.  
The History of Nederland 
The Ute and Arapahoe tribes were the original inhabitants of the area. The relatively flat pocket amid the rocky mountains (and ample water access!) made it an ideal place to settle. In the summers, tribes would travel the surrounding high terrain with their cattle. 
The town began as a trading post between the Ute tribe and European settlers. Soon after, it began a tenure as a mining town. The town remained unincorporated until 1874.
This town has known many different names. First, it was called Dayton. Then, it was changed to Brown's Crossing. Eventually, it was changed again to "Middle Boulder". The name that stuck was, of course, Nederland. It was named after the Nederland mining company that immigrated from (you guessed it!) the Netherlands. Ironically, "Nederland" means lowland… but the town is one of the highest elevation areas in Colorado. But the name stuck. The town continued to prosper due to a cache of tungsten found in the surrounding area. It saw a "steel boom" when trains and cars revved up their popularity.
A cultural shift from an industrial town to an artistic hub happened in the 1960s. Transient hippies passing through the town fell in love with the beauty of the area. A blend of cultures lives on today. There is still a vibrant art and music scene within Nederland.
Best Places to Get Outside
If exploring the wilderness makes you feel alive, Nederland is the perfect place for you. In Nederland, you can do it all. Hike, trail run, mountain bike, camp, fish, ski, kayak, snowboard, snowmobile. It's all here. This town is situated at the edge of the Continental Divide. Boulder real estate agents are quick to highlight a few of the world-class destinations that are at your doorstep.
What's It Like To Live in Nederland? 
The town slogan is "life is better up here". The amazing views, trails around town, and quaint streets dotted with local businesses prove it to be true.  First Street and Second Street are the hubs for the tiny "downtown" Nederland.  There is a wealth of recreational opportunities and lively personalities. Skaters can be found shredding in the Nederland Skate Park.  And it's always fun to take a spin on the Carousel of Happiness. Ask any Boulder realtor and they'll tell you, this town is chock-full of personality!
  
Annual Traditions and Events
Frozen Dead Guys 
The Frozen Dead Guys Festival is iconic. The New York Times even rated it on the same level as Mardi Gras. The celebration is loosely in honor of Grandpa Bredo Morstoel. He was cryogenically frozen by his family and caused quite a stir when this daughter was evicted from her Nederland home, and she feared her father would dethaw. You can read the whole story here. The festival is a wacky fun celebration that includes live music, coffin racing, a polar bear plunge, frozen turkey bowling, and a frozen t-shirt contest. The festival takes place every March. 
High Peaks Art Festival
The slogan "8236 feet above the ordinary" speaks volumes about this June festival. It's an amazing place to buy, sell, or just simply gaze on incredible local art. Art in all mediums is welcome. You'll see displays created in glass, fiber, metal, painting, woodworking, ceramics, and photography. Everything is unique and one of a kind. No mass-produced items are allowed at the festival.
Food and Drink 
Kathmandu Restaurant 
At Kathmandu, you will enjoy a fresh Himalayan meal, cup of chai, or Nepali beer. Flavors are unlike anything you've experienced before. Kathmandu has won "Best of Boulder" 6 times. 
Ned's 
Every small town needs a cozy diner, and Ned's is one for the books. Their breakfast plates come fully loaded and piping hot, and their cherry pie is the stuff of storybooks. 
Crosscut Pizzeria & Taphouse
I don't know about you, but I've never had dreams of sugarplum fairies. Instead, woodfired pizza lights up my brain at night. And nobody does woodfired pizza better than Cross-Cut. Their artisan pizzas feature classic flavors and specialty pizzas like "lamb curry pizza" and "gorgonzola pizza". 
New Moon Bakery & Cafe
The best cup of coffee in Nederland. This local roastery has a gorgeous patio and daily fresh baked goods.
Homes for Sale in Nederland
Nederland is a great place to look for a home if you're searching for Boulder culture… without Boulder prices. Boulder real estate agents report that the average home price in Nederland is $688,753, which is significantly lower than homes around downtown Boulder. Homes in this area tend to have a more "mountain house" feel to them. Views are abundant, and many homes feature wood-burning stoves and snow frosted pines.
Our Boulder realtor team can help you search for homes in Nederland here.