FROM HIGH-END GALLERIES TO COLLABORATIVE WORKSPACES, DENVER'S RIVER NORTH ART DISTRICT IS A MUST-SEE CREATIVE HUB
The River North Art District, often referred to as the RiNo Art District, is Denver's creative and artistic hub. During a visit to the District, you'll find gallery spaces featuring excellent exhibitions from both locally-beloved and internationally-renowned artists, explore studio spaces where collaboration is generating new and exciting projects, and enjoy the creative, inspiring atmosphere that permeates the River North area.
The Art District comprises portions of four of North Denver's historic neighborhoods: Globeville, Elyria-Swansea, Five Points, and Cole. Over the years, these neighborhoods shifted from being one of the city's industrial centers to being a haven for Denver's artistic community, who worked to organize the District as a way of connecting artists, businesses, and residents to better distribute resources, grow the neighborhood, and transform it into an even more invigorating creative destination.
Today, it's a popular place for those who want to spend a day shopping at unique boutiques, dining at inventive, trendy restaurants, and taking in the beautiful art that's everywhere you look. We've gathered a list of must-see destinations and experiences in the River North Art District that visitors should consider for their next trip and that Denver residents get to enjoy year-round.
CRUSH WALLS 2020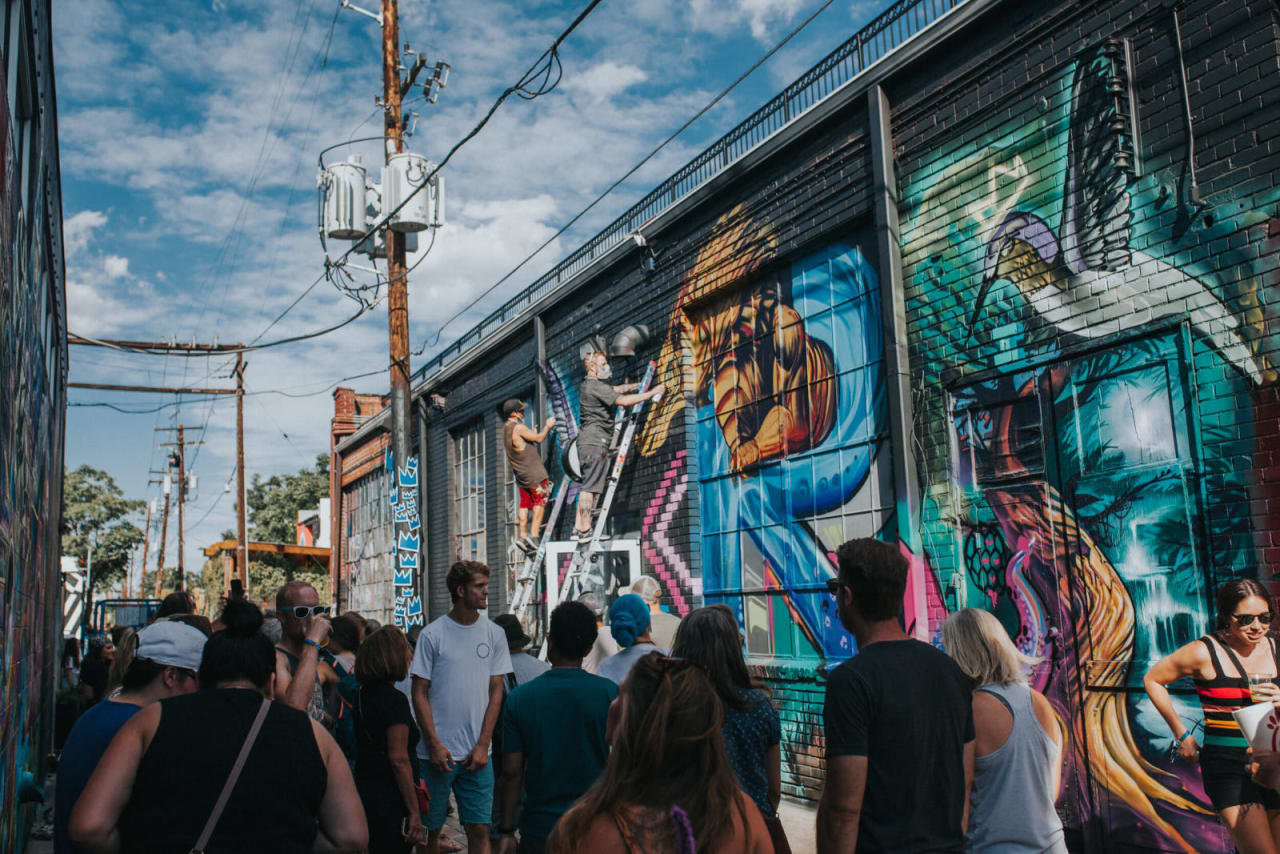 CRUSH Walls 2020 is happening right now (September, 14 2020 - September 20, 2020) and there are events planned all week long. CRUSH is an annual celebration of art, transforming the streets and alleys of RiNo into permanent, open-air galleries. CRUSH celebrates art, creativity, and culture by enriching our community through an arts festival like no other. They believe that public art leads to an improved community as a catalyst for safety, cleanliness, creativity, and conversation. Centered around empowering artists, CRUSH is committed to reflecting and diversifying the urban landscape and the unique voice of a community, bringing art out of the galleries and into the streets.

Founded by Denver artist Robin Munro, CRUSH has been taking over the streets of the RiNo neighborhood since 2010. With a passion for graffiti and street art as well as his community, Munro aimed to create an event that showcases the amazing artistic talents he saw not only in Denver, but also across the world.
​​​​​​​
​​​​​​​You can check out a map of the walls being crushed this year, here.
GALLERIES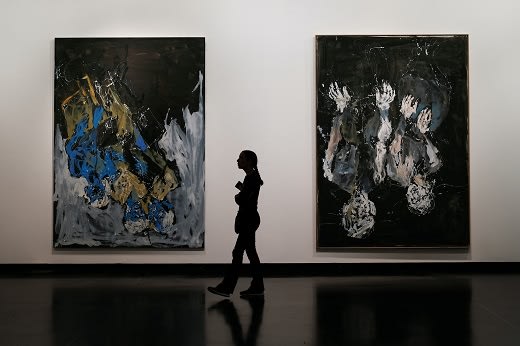 Naturally, one of the most common things to be found in the Art District are galleries. Spanning a variety of artistic mediums and thematic interests, these institutions form the backbone of the District and are often creatively intertwined with studio and retail spaces. Each gallery has a distinct identity and presents a unique contribution to the culture and creative landscape of the River North neighborhood. The galleries we've listed below are just a partial selection of the excellent galleries you'll find in RiNo, and exploring new spaces is one of the many things that makes this neighborhood such a great place to spend your days in Denver.

EVENTS
Since the Art District is a collection of such a varied number of creative and commercial spaces, you'll find a wide array of fun and creatively invigorating events in the neighborhood—both hosted by individual gallery spaces and sponsored by the District.

CRUSH Walls 2020 has event planned throughout this week (9/17/2020 - 9/20/20). CRUSH is an annual celebration of art, transforming the streets and alleys of RiNo into permanent, open-air galleries. CRUSH celebrates art, creativity, and culture by enriching our community through an arts festival like no other. Founded by Denver artist Robin Munro, CRUSH has been taking over the streets of the RiNo neighborhood since 2010.
The Art District is rarely more alive with creative energy than during its popular First Fridays events. Held on the first Friday of each month from 6:00 PM to 9:00 PM, visitors flock to the Art District's storefronts, galleries, and restaurants to enjoy a night spent in the unique and vibrant River North culture. On these inspiring nights, you can view exciting new exhibitions, learn about the work of Denver's many great artists, enjoy event-exclusive promotions at various shops around town, experience live music and dancing, share a meal with friends, and much more.

One of the most popular events in the RiNo Art District is the Insider Tours. These paid experiences take visitors inside local businesses, art spaces, and more to get a rare behind-the-scenes look at their contributions to the District.

The Art District and its numerous creative spaces often host workshops and classes to learn about drawing, painting, and various mediums of creating art. These are a great way to learn new methods and techniques while having a great time. Keep an eye on the regularly-updated RiNo Art District event schedule to see if there's a workshop you're interested in out of the many options, including ones suitable for individuals or groups, as well as family-friendly classes perfect for letting kids tap into their creativity. Beyond art, you'll also find fitness-oriented events like yoga and dance classes, as well as entrepreneurial/business workshops, and more.
Every other month, on the second Thursday from 5:00 PM to 7:00 PM, you can attend RiNo Talks, where community members and District leaders come together to discuss plans and visions for the future of the Art District. It's a great opportunity to engage with the artistic community and help shape the neighborhood's creative direction.

SHOPS
The shops in the Art District reflect its creative culture. With beautifully designed and handmade fashion, jewelry, pottery, and more, River North is a one-of-a-kind shopping destination and the perfect place to find a unique gift for special occasions.
50 Dresses is the creation of Tess Vigil, a seamstress and designer who sells limited-run fashion and accessories in addition to teaching sewing classes out of the 50 Dresses studio space. If you're looking for a unique outfit or even want to make your own, this artistic space is a great place to spend some time shopping and creating.
Blake Street Glass Studio has made a name for itself in Denver by crafting and selling unique and award-winning blown glass creations that are sought-after by collectors worldwide. In addition to selling items in-store and online, their studio space hosts community events where you can get an up-close look at their work and the complex process of their artisans.

Triana Sewing & Inspiration is a small sewing shop that sells custom-designed, handmade items for the home. One-of-a-kind drapes, pillows, and more are crafted with care and attention to detail.

RESTAURANTS AND BARS
Thanks to its distinctive artistic flair, the River North Art District has attracted restaurants and bars that reflect the neighborhood's creative spirit. You'll find expertly brewed craft beers, locally-sourced dishes, and beautifully designed settings to dine and drink in.

Located in the heart of the Art District, 14er Brewing is a Denver business that serves delicious craft beers in an industrial warehouse setting with an attached beer garden to enjoy with friends.

Bigsby's Folly is a craft winery that brings River North visitors together in its inviting tasting room and restaurant, where you'll find a wide selection of incredible wines and a contemporary food menu.
The Doughnut Club is one of the best spots in the Art District to satisfy your craving for something sweet. This gourmet donut shop serves a selection of fresh donuts in creative flavors with fun toppings that are a perfect treat for the whole family.

EXPERIENCE THE RINO ART DISTRICT LIKE A LOCAL
If you want to live in or near the River North neighborhood and enjoy the one-of-a-kind creative culture that Denver offers, Burgess Group's team of experienced Colorado real estate agents can help you find the right home at the right price. Our team is composed of expert Denver and Boulder, Colorado real estate agents ready to help make finding your next home a streamlined, worry-free process. Whether you're interested in being a part of Colorado's creative hub by buying Denver real estate or want to learn more about luxury Boulder homes for sale, Burgess Group has proven skills and an excellent track record that clients of all kinds can trust.
You can explore our site to learn more about real estate in the excellent Colorado communities we serve and contact us to get all the information and assistance you need to purchase your new home with confidence.

*Header Photo: Denver.org